The time is here for all of us to start saying our final goodbyes to Universal Analytics (UA). As of July 1st, 2023, all standard Universal Analytics properties will stop processing data. Though many aspects of UA will be missed, there are plenty of new features in Google Analytics 4 (GA4) to look forward to! Most importantly, it's time to ensure your websites and apps are fully GA4 integrated before the data spigot officially runs dry for UA in July.
Connecting GA4
If you haven't connected a GA4 property, now is the time! Setting up GA4 on your website now is essential so there are no lapses in data collection and historical data. Luckily, connecting GA4 to your website is a relatively painless process.
If you already have a UA account, using the Set-up Assistant is the easiest method.
If this is your first time using Google Analytics, you'll need to create a new account and connect the new property to your website/app
First Time Set-up
There are some basic steps to take once you have your GA4 property connected. Many of the features in GA4 give you insights into your user behaviors without creating overly complicated user journey goal completions and conversions. However, there is some basic set-up to ensure your GA4 account is optimized correctly to give you the valuable data you need.
Google Signals & Data Streams
Make sure to turn on Google signals! It's easy to miss but allows deep data and insights from Google users that have allowed ad personalization within their Google profiles. Although this will most likely be a minority of your users, the dataset can be used for cross-device reporting and remarketing. Google signals are also what fuel some of their predictive reporting and real-time user behavior tracking.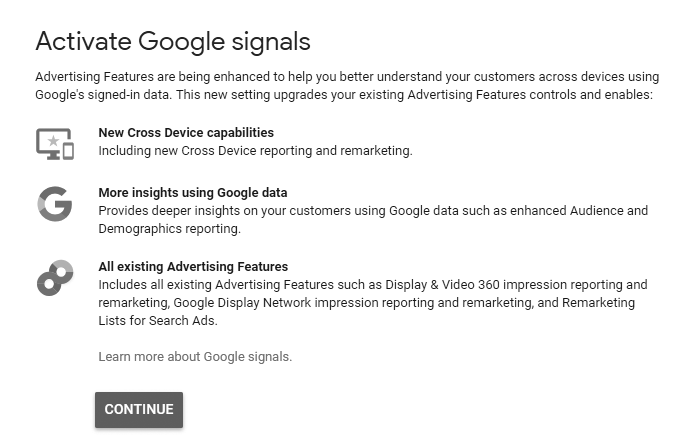 Tracking Conversions
Sadly, UA goal functionality has not carried over to GA4. The good news is that Google's goals migration tool can convert goals into conversion events. GA4 conversions and user behaviors are also easy to configure in GA4 thanks to their new reporting capabilities and explorations area.
If this is your first time setting up conversion tracking within GA4, it's essential to understand that GA4 heavily relies on event-based tracking for user behavior. Anytime a user takes a specific action on your website or app, this can be tracked as an event. It's essential to make sure that you are capturing the events that matter to your particular needs. Google has recommended events for most use cases, but it's possible to create custom events based on your specific needs.
Once you set your events, you can mark particular events as conversions. Conversions are important for understanding when users take high-value actions on your website/app so you can optimize and know what drives action for your audience.
Connect GA4 to your other digital marketing tools.
There is a wide variety of digital marketing tools that GA4 connects with to collect data across your digital programs. Be sure to check with your programs you use individually to see what sort of GA4 integrations they offer and connect them. For more information on our favorite tools, check out our Must-Have Digital Marketing Tools!
Finally, don't forget to reconfigure your connections to reference GA4 instead of UA for any reporting software.
Stay up to date on GA4.
GA4 is far from being feature complete. Google has indicated that switching to the new events-based user tracking will allow their machine learning to give recommendations based on your unique website users. Stay up to date with Google updates so you can understand when new features begin to take shape!
So Long UA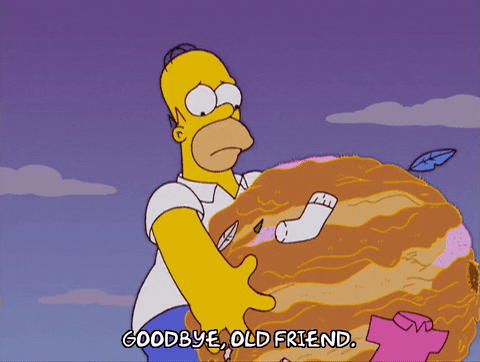 If you've followed these steps to get your GA4 property set up, you'll be in good shape to work within Google's new analytics platform. While it might seem like a daunting change, your effort to properly configure and master GA4 sets you up for success in this new era of digital reporting!